Sometimes you need a little boost to get things moving, especially when it comes to buying a home.
Well, it turns out that a pandemic can be that driving force, a new survey by real estate broker Redfin shows.
The company said that 25% of 1,000 home buyers surveyed are moving (or moving earlier than planned) due to COVID-19.
COVID-19-induced low mortgage rates turn buyers off the fence
In terms of what gets people moving, it is literally the lowest record mortgage rate today.
Compare the top 10 mortgage refinancing options near you
Select your state to get started
Status
Thanks in part to COVID-19, mortgage rates have hit new record lows eight times this year (so far and only in August) as economic uncertainty often has a positive effect on interest rates.
Around 55% of respondents cited "low mortgage rates" as a reason to change or accelerate their plans.
The second biggest factor (52%) was "spending more time at home" which we have all been doing a lot lately.
Being home all the time gives you more time to think and more time to complain about your surroundings.
In third place was the work from a home perspective (40%), which changes the living preferences of potential home buyers.
It usually means buying more home so that a home office can be set up in one of the bedrooms.
It also means moving out of the city to the more spacious and affordable suburbs.
The preferences of home buyers are no longer what they used to be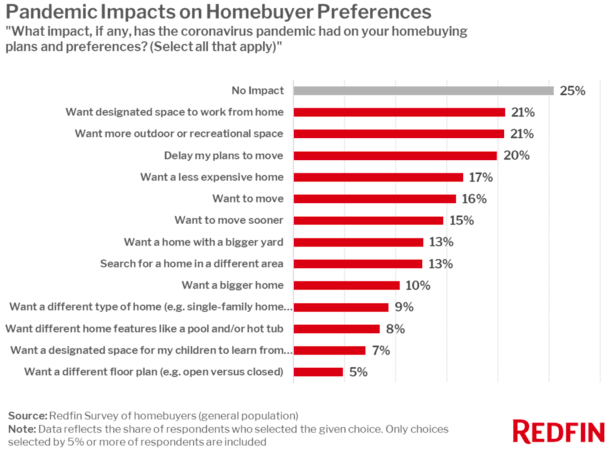 While 25% of respondents said COVID-19 hasn't changed their plans or preferences, a home office and outdoor space are high on the list for many potential home buyers.
In addition, there is a desire for a larger garden, pool and / or hot tub, a designated study space for children and a larger home in general.
In other words, many of today's home buyers expect them to hide in their homes for a while and plan to do so accordingly.
Others said they had postponed their plans to move or wanted a cheaper home, possibly due to uncertainties about income or employment.
Despite a surge in unemployment and a very shaky economy, real estate seems to be shooting at all cylinders.
In the four weeks ending July 26, pending home sales increased 12% year over year, while the median sale price increased 11%, the biggest increase since 2014, according to Redfin.
In addition, more than half of the Redfin bids in July were linked to a bidding war for the third consecutive year.
Anecdotally, I know two families who sold or are currently selling their homes during the pandemic.
Interestingly, both families had lived in their homes for many years, viewing them as eternal homes. Amazing what a pandemic will do, isn't it?
One is upgrading to a larger home to accommodate the woman who is now working from home.
And the other is moving out of the city to the suburbs for more space and to get out of the less desirable city center, something they thought they would never do.
It's basically a U-turn from the trend we saw before the COVID-19 hit – everyone and their mum wanted to (literally) live in a city center, walk to bars and restaurants, live with less space, etc.
That has changed very quickly as people are realizing that having some air to breathe when you are in one place most, if not all, of the time is nice.
Both houses were pending high asking prices in about a week, which shows how much demand there is for residential property right now.
Whether it will take any longer remains to be seen, but for now all systems appear to be up and running.
About the author: Colin Robertson
Prior to creating this blog, Colin was an account executive for a mortgage wholesaler in Los Angeles. He has been writing passionately about mortgages for almost 15 years.